Mr. Squiggles

Gender
Male
Type of Animal
Hamster
Birthmark
Birthday
January 31
Set
Series
First
Mr. Squiggles is a Zhu Zhu Pet. He is part of the first season of pets and was one of the first Zhu Zhu Pets to be released in 2009. He appears on the Zhu Zhu Pets logo, making him the brand's icon.
Him, along with Jilly, are also the two Zhu Zhu Pets to be made into a virtual pet.
From Zhuniverse.com:
He's the fussy and finicky hamster who's been there, done that, and lived to tell about it. Get out of his way! He's a hamster on a mission: explore galore, then explore some more! Love him, pet him, and watch him go. (Just don't call him cute.)
From Zhuzhupets.com (2016 version):
Mr. Squiggles is a hamster of all trades—he just has to get a bit more organized at sorting them out! He is somewhat of a scatter-brained rodent, which can be challenging for the team as they try to understand and operate (and be "guinea pigs" for) his latest inventions!
Mr. Squiggles' birthmark is a spiral because his mind is always spinning with new ideas!
Appearance
Edit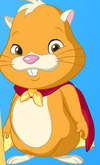 In toy form, Mr. Squiggles is a light brown hamster. He also has white paws, white cheeks, a white birthmark, and a pink nose. In cartoon and plushie form, he also wears a red cape, has brown eyes, and light brown ears, hair, tummy patch, and feet. In the 2015 prototype version, he has green eyes.
In Polly And The ZhuZhu Pets, his cape is replaced with a belt.

Mr. Squiggles appears as a main character in the 2011 direct-to-video movie The Quest for Zhu, where he is voiced by Ian James Corlett. In this movie, he is portrayed as an adventurous and daring explorer, and is one of the four hamsters to go on the quest, along with Pipsqueak, Num Nums, and Chunk.
In Polly and The ZhuZhu Pets Edit
He is also a main character in the 2016 series Polly and The ZhuZhu Pets. In this series, he is one of Polly's pets, along with Pipsqueak, Num Nums, and Chunk. He is an inventive hamster, although slightly scatter-brained. He is voiced by Richard Binsley.
Ad blocker interference detected!
Wikia is a free-to-use site that makes money from advertising. We have a modified experience for viewers using ad blockers

Wikia is not accessible if you've made further modifications. Remove the custom ad blocker rule(s) and the page will load as expected.