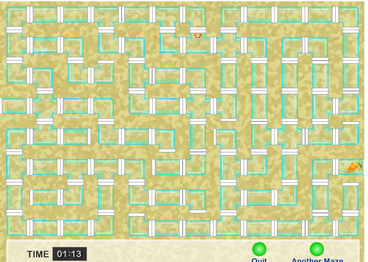 Maze Runner was a game on the old Zhu Zhu Pets website, zhuzhupets.com. When Zhuniverse.com launched, this game along with Hamster Raceway and Don't Whack the Hamster were removed. However, it can still be played at mygogopets.com, which is a clone of the old website.
In this game, the player must guide the hamster through the maze to the carrot using the arrow keys on their keyboard. There are dead ends in the mazes, so the player must avoid them and find their way to the end. Once the player has reunited the hamster with the carrot, they can click the button for another maze, or quit the game. There is also a timer on the bottom of the screen, so the player can time themselves in the mazes.
External links
Edit
Ad blocker interference detected!
Wikia is a free-to-use site that makes money from advertising. We have a modified experience for viewers using ad blockers

Wikia is not accessible if you've made further modifications. Remove the custom ad blocker rule(s) and the page will load as expected.